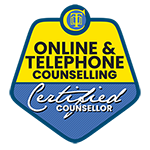 Hello, my name is Sarah Noble-Jones and I am an experienced person-centered counsellor offering sessions both in person sessions and online.
Can Counselling Help Me?
People come to counselling for a variety of reasons and at different stages in life.
Maybe you're finding it hard to cope with difficult feelings that you don't understand, but can't ignore, and which stop you from leading a satisfying life.  Feelings like depression, anxiety, anger, shame or jealousy can affect every aspect of life yet be difficult to talk over with family and friends.
Do you have a particular issue you wish to address or a decision you are struggling with that feels overwhelming and you want some help in finding clarity about?
Perhaps you need help in looking at long-standing issues or traumas, or to make sense of painful events or losses whether currently or earlier in life.
You may be looking for help in how to manage in relationships, which just don't seem to be working.  Or perhaps to understand why you behave in certain ways that don't seem helpful to leading the life you want?
Sometimes any of us simply need extra support to get through a difficult time.
What I offer is a non-judgmental and confidential space in which we can effectively work with whatever you bring.  Each person is unique and we work collaboratively in the best way to serve you.  
Even when you feel bleak and helpless, you don't have to struggle alone.  Recognising when you need help and asking for it isn't weakness, it can be a strength to reach out and offer yourself hope.  Having someone to share these thoughts with can be a real first step towards change.
People come to counselling for many different reasons, below are some examples but this is by no means a definitive list:
Anxiety, stress, 'difficult to switch off'

Low self-esteem / self-confidence

Loss – Bereavement and pre-bereavement, miscarriage, divorce or separation

Life changes – leaving home, marriage, children, 'empty nest', end of working life

Menopause – physical changes, emotional responses

Health – illness, loss/change of ability, surgery

Abuse – sexual, physical or emotional abuse

Depression, seasonal affected disorder, persistent sadness, unable to face life, isolation

Relationship problems

Ageing, mortality

Difficult feelings – shame, guilt, anger, jealousy

Work / study issues – stress, burnout, redundancy, bullying

Unresolved issues from earlier life

Personal growth/development
Please take a look at the How I Work page for further information.
(c) Copyright Sarah Noble-Jones 2016. Website WordPress.com